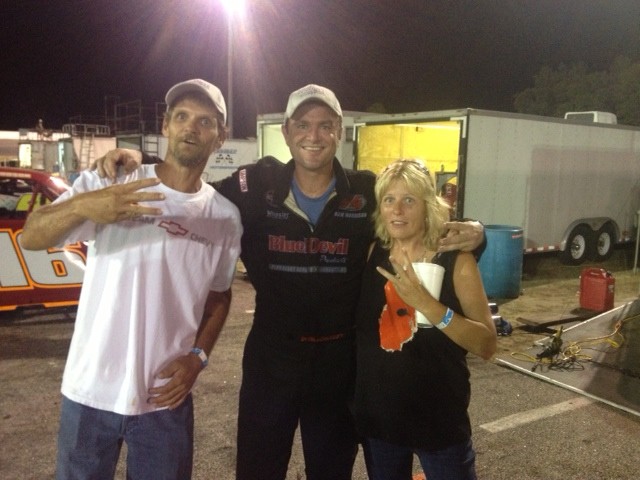 Aug 10, Dillon –
It wasn't looking good at the start of Saturday's practice.  HMR's BlueDevil Products Chevy was not picking up fuel when rounding the track corners.
"the truck would literally not respond when I pushed on the gas in the center of the turns. I suspected a clogged fuel filter and that is exactly what it was.  We removed the filter in time to start the race. But I missed out on qualifying so we started in the back."
This set the scene for Ham in one of the most brutal races in the track's recent truck series history.  There was a serious crash on the first lap that took out several trucks. HMR narrowly escaped harm in that wreck as well as the next 4 major wrecks that followed in the 1 hour 15 minute epic battle last Saturday night in Dillon, SC.
"It was survival of the fittest! …or the quickest not to wreck. We were running 5th when our fuel system again stopped delivering gas to the carburetor bringing out the caution flag. Our BDP HMR Chevy lost power and would not start! We got pushed in by the wrecker and I remember thinking – 'of all the ways to go out!! – a fuel problem!' But it wasn't meant to be as our racetruck fired up just in time … not to go a lap down."
From there Hambone hung in, fighting a tight condition, past several trucks and ultimately finished 3rd.  "I think given the circumstances, with out being able to really practice and dealing with the issues HMR was tackling we had a stellar night – finally getting that top 3 and the monkey off our back," said Ryan Hall, HMR's spotter and crew chief.  Thanks to BlueDevil Products for sponsoring. Come out and see us at our next race – Aug 22 in Myrtle Beach. – HMR
http://hammorrisonracing.com/wp-content/uploads/2013/08/photo-3-e1376350463515.jpg
480
640
admin
http://hammorrisonracing.com/wp-content/uploads/2016/07/hmr-logo-340x156.png
admin
2013-08-13 00:12:34
2013-09-20 17:31:38
From Last to 3rd, Tables finally turn with 3rd place finish in 50 lap Bruiser