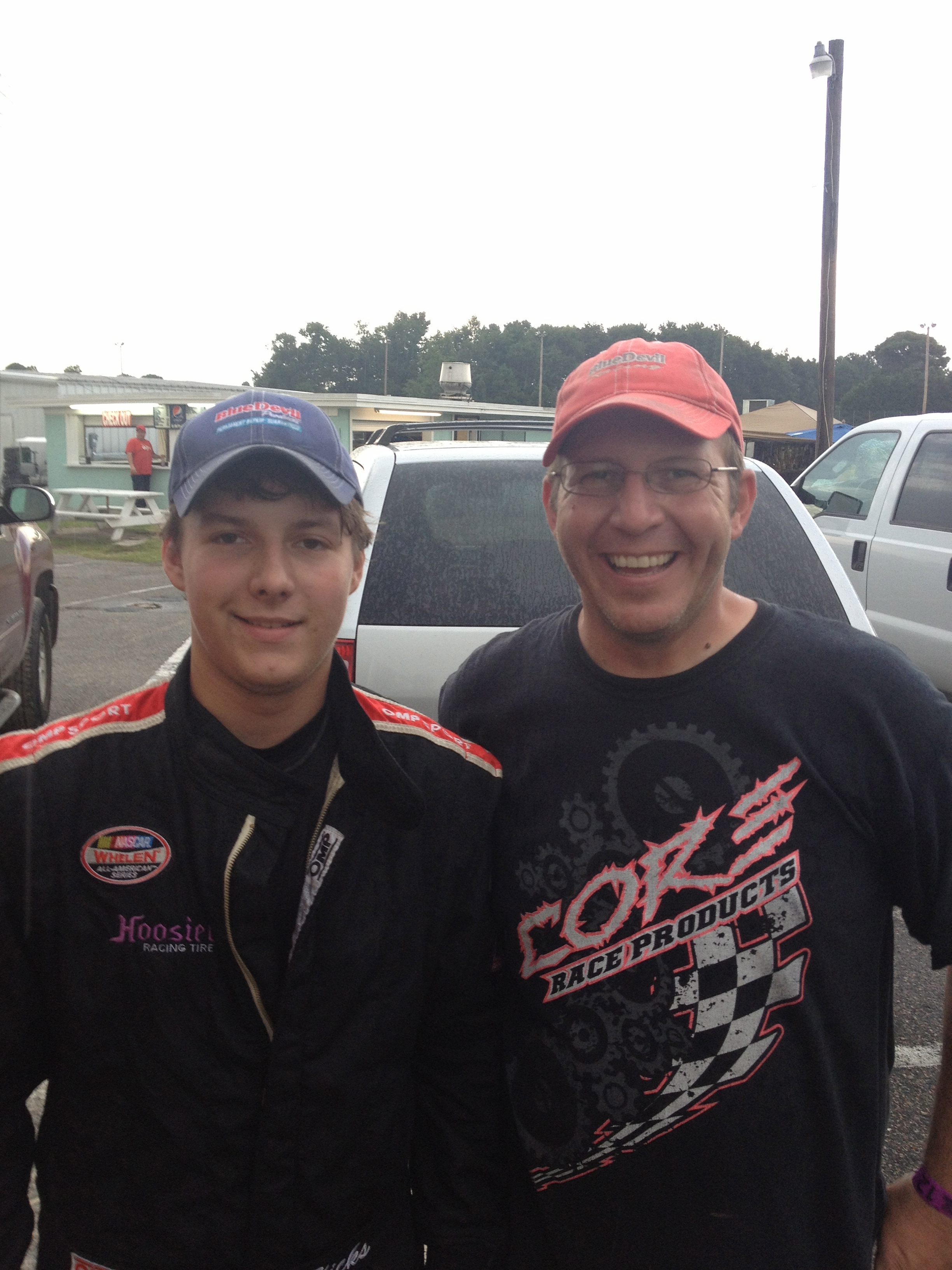 August 22, 2013, Myrtle Beach
Racing this past Thursday at the Beach provided some of the best action yet for the HMR BlueDevil Products team. Starting from the eleventh position Hambone quickly excelerated to the front of the pack, driving the BlueDevil Chevy like he stole it.
"Ryan had the truck dialed in perfectly for this track and we finally got some good luck on tire selection.  We have never been so fast coming off the turns and the handling was perfect on the outside groove as well as the inside." says driver, Ham.
The 'Bone' (as we like to call him) was holding off fellow driver, Clay Thomas, for 3rd position for 5 laps or so when suddenly his #74 truck spun in the middle of turns 3 and 4.
"Clay was a little stronger going into the turns but I was better coming off," recalls Ham, "I didn't know he had his nose inside coming through 3. He didn't feel like lifting and I don't blame him. Clay is a legendary racer and I respect him; I've watched him for many years."
So as it went, in mid-race Ham had to start again from last place. As the checkered flag waved he had successfully climbed to 6th place.
"I wore out the tires in 1st part of the race and the handling got really tight in the 2nd part of the race; we just didn't have enough for the guys in front of me although we were gaining on them. Next time we plan to start our set-up a little looser next time to compensate for how tight the truck gets late in the race."
There are only two races left in the 2013 season: September 14, 6:30 PM in Dillon followed by November 23rd in Myrtle Beach. Special thank you to the crew members – Ryan, Walter and Michael Schrecker with BlueDevil Products [www.gobluedevil.com]. Hope to see you at the Track! – HMR
http://hammorrisonracing.com/wp-content/uploads/2013/08/IMG_1913.jpg
3264
2448
admin
http://hammorrisonracing.com/wp-content/uploads/2016/07/hmr-logo-340x156.png
admin
2013-08-25 20:08:51
2013-09-20 17:30:26
BlueDevil Products Chevy Continues It's roll in Myrtle Beach