WELCOME RACE FANS
CHARLESTON'S ONLY NASCAR RACE TEAM
Ham Morrison has been racing since the day he sat in the driver's seat of his father's 1976 Plymouth Fury.
22 years later and fresh out of college, Morrison finally got behind the wheel of a real race car at the Bob Bondurant School of Racing. During the school's final race, Morrison felt years of determination and drive come to fruition; Morrison won. "The moment Mr. Bondurant came down from that flag stand to shake my hand I knew I wanted to race and had to potential to do it," says Morrison. And he was right.
In 2004, Morrison completed his first full season and earned the 2004 Summerville Speedway's NASCAR Thunder and Lightning Division Championship, securing 3 victories and 10 top 5's that year. Ready to continue his passion and success, Morrison started 2005 by racing in the NASCAR's Whelen Late Model Super Truck Series at Myrtle Beach Speedway. To date Morrison's #74 has had 20 starts with 6 Top 10's against a field of 24 better funded teams. No small feat and a testament to his growing potential.
0
Weeks
0
Days
0
Hours
0
Minutes
0
Seconds
NEXT RACE: March 17th, 2018
Venue: Myrtle Beach Speedway
Address: 455 Hospitality Lane, Myrtle Beach, SC 29579
Time: 7:00 PM to 10:00 PM
Bring the whole family out to Myrtle Beach Speedway Saturday August 6 2016 to watch exciting side by side racing as we welcome the following Myrtle Beach Speedway Race Divisions: NASCAR Whelen All American Series Late Models, Chargers, Mini Stocks, Super Trucks and Vintage Series Pit Gates Open at 1pm Grandstands Open at 6pm Qualifying at 6pm FAN Meet & Greet Session on front stretch at 7:15pm RACING Begins at 7:45pm General Admission Adult $15 General Admission Kids $5 Children 6yrs & Under FREE!!! School/Local/Military/Senior(65+) Discount with ID $5 off General Admission Tickets Beat the lines!!
Tickets are also available at Myrtle Beach Speedway's Box Office, 455 Hospitality Lane, Myrtle Beach SC 29579, Prior to & during event days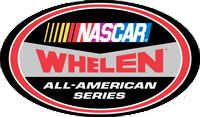 The Whelen All-American Series (formerly the Winston Racing Series) is a points championship for NASCAR sanctioned local racetracks around the United States and Canada. In the 30 years of NASCAR sanctioning weekly racing for a national championship, the tracks have been split, initially by geographical proximity of the tracks for purposes of developing regional champions, then randomly among four divisions and currently by states that have tracks participating.