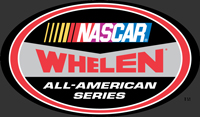 Thursday,  June 13th  Myrtle Beach —  With a 4th place qualifying effort in the books the BlueDevil Products team was poised for the top 5 finish they have been waiting for. And while running in the 3rd spot one quarter way through the race all appeared to be going right for the BlueDevil Products Chevrolet… but disaster struck suddenly as driver Ham Morrison felt the symptoms of his front right tire going down coming through turn 2.
"I felt the chassis rub the track  in turn 2 and our race truck pushed up into the turn.  And then in turns 3 and 4 it was confirmed – I knew we had a tire going down. We have never had so many trucks in our rear view mirror so you can imagine the disappointment."
It happens to the best teams.  "There are a lot of factors in racing that our out of your control – we had a top 2 truck and all we can say is we'll get'em next time." says a very disheartened Ryan Hall.  "I am very happy with Hambone's driving we just need to get a little luck on our side and we'll start getting the finishes we deserve." – HMR
**Special Thank you to Michael Schrecker with BlueDevil Products for making the race.
http://hammorrisonracing.com/wp-content/uploads/2016/07/hmr-logo-340x156.png
0
0
admin
http://hammorrisonracing.com/wp-content/uploads/2016/07/hmr-logo-340x156.png
admin
2013-06-17 22:54:03
2013-06-17 22:54:03
BlueDevil Products Chevy Running 3rd when Tire goes down at the Beach